The purpose of the Smocking Arts Guild of NSW Inc is to preserve and foster the art of smocking and related needlework for future generations through education, communication and quality workmanship.  If you are wanting to learn how to smock or update your smocking skills see our calendar for details of all meetings and workshops.  Smocking Arts Guild of NSW Inc (a not for profit organisation) held it's first meeting in April, 1993 following the US model Smocking Arts Guild of America.
Our community project is Wee Care and we provide beautiful smocked gowns to 28 Sydney and 20 country hospitals. This work is on a voluntary basis and every garment is made and donated by our members and lots of wonderful friends of the guild.  See our Wee Care page for further information.
Meetings
Our meetings are held at Dence Park Community Centre, 26 Stanley Road, Epping on the first Thursday of each month (excluding January).  There is plenty of off road parking.  Morning meeting is at 10am and evening meeting is at 7pm.  Each month we have a mini lesson.  Morning tea and supper are provided free of charge.  You are more than welcome to come along to see what we do or join our friendly group if you would like to help with our community project.  Bring a cup or mug with you.
Sale of work
Each year the guild has a table at the Craft & Quilt Fair where we sell beautiful smocked garments.  We also have sale of work stalls at Winston Hills Shopping Centre where smocked, hand crafted and embroidered items are sold.  All monies raised go towards the purchase of fabric, lace and ribbon for our Wee Care gowns and wool for our knitted items.
Darling Harbour 2017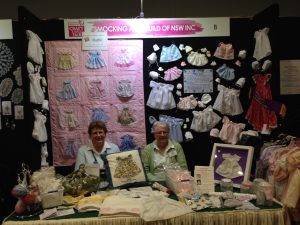 Library
We have an extensive library of magazines and patterns available for members use.  Also available for members to use at meetings are smocking pleaters.  You will be shown how to use yours if you already own one.
Learn to smock or refresh day
Every year, usually a week after Craft & Quilt Fair,  we hold a full day workshop (10am to 4pm) especially designed for beginners to learn to smock.  You will be supplied with a pleated sampler, needle and a full skein of stranded thread for a cost of $5 and will be shown how to do basic stitches.  You may also choose to purchase a small "How to smock book" for a further $5.  Morning and afternoon tea is supplied.  Bring your lunch and a cup or mug.
Facebook
Follow us on Facebook, see our direct link at the top of the page.  You don't have to have your own Facebook page to view ours.
Pleaters & pleater needles, pleating
We sell genuine Amanda Jane, Sally Stanley and Read pleater needles.  These can be mailed to you if required.  We can also arrange for one of our members to pleat your fabric at a cost of $1 per row for a flat (insert) piece or $1.50 per row for a bishop.  We also sell smocking dots and Australian Smocking & Embroidery magazines.
Affiliated groups
We have groups in Newcastle, Muswellbrook, Werrington and Morpeth.  Please contact us for meeting addresses and times for these groups.
Donations
We are more than happy to accept donations of fine cotton fabric, embroidery threads, sewing machine threads, smocking pleaters, smocking books or magazines, ribbon or wool.  Cash donations are also welcome.  Each donation helps us continue our much needed charity work.  Please contact us to arrange pick up by one of our committee members in your area or you can mail to our post office box.