Our smocked Wee Care gowns are handmade in 5 sizes which are Newborn, Premmie, Small, Tiny and Teeny Weeny.  These cater for stillborn and premature babies from 20 weeks to full term.  They are made to provide love and support to parents at a most distressing time.  A tiny swing tag is attached with ribbon to each gown and is printed on one side with our group name and on the other side "To show wee care". Sometimes the parents choose to keep the gown or the tiny swing tag.
Each gown is accompanied by a matching bonnet or cap and booties, tiny quilt or crocheted/knitted blanket.  Some hospitals also receive developmental hearts and crochet octopus for the premmie babies. The parcels are distributed to hospitals twice each year, in May and November. We also make hospital gowns which are in pretty coloured fabrics and fasten at the shoulders.  These are made especially for babies with IV drips.  For the November distribution these hospital gowns are made in Christmas fabrics.
We have also added more hospitals to our list making our total now 46.
From letters to the guild from parents and nurses, we know these little garments are treasured and can give a lot of comfort to grieving parents and their families.  Nursing staff have also told us they have been deeply touched when they receive our parcels knowing someone cares so much for these special babies.
Sadly the demand is aways high and we make these garments with much love to show "Wee Care".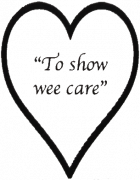 We currently supply wee care gowns with matching bonnets, caps, bootees, quilts, blankets and hospital gowns to the following hospitals on a twice yearly basis at no charge. Some hospitals have more than one delivery point.
| | | |
| --- | --- | --- |
| Albury Wodonga | Hornsby Ku-ring-gai | Norwest Private |
| Armidale | Hurstville | Prince of Wales Private |
| Auburn | Kareena Private | Queanbeyan |
| Bankstown-Lidcombe | Katoomba | Royal Hospital for Women |
| Blacktown | Lismore | Royal North Shore |
| Campbelltown | Liverpool Private | RPA |
| Bowral | Liverpool Public | Sydney Adventist |
| Calvary, Canberra | Manning, Taree | St. George |
| Canterbury | Mater, North Sydney | Tamworth |
| Fairfield | Mudgee | Wagga Wagga |
| Forbes | Narrabri | Westmead Private |
| Gosford | Nepean Private | Westmead Public |
| Goulburn Base Hospital | Nepean Public | Westmead Childrens – Grace Ward |
| Griffith Base Hospital | North Shore Private | Wollongong |
| Hawkesbury | Northern Beaches | Wyong |